Water, water every where,
And all the boards did shrink;
Water, water every where,
Nor any drop to drink.
—from The Rime of the Ancient Mariner, by Samuel Taylor Coleridge
Picture sailors stranded on a ship in the middle of the ocean, with water everywhere, as far as the eye can see. After all, the Earth's surface is almost three-fourths water. But seawater is too salty to drink. With no rain in the forecast, the sailors soon run out of drinking water. Their bodies dry out, and the sailors slowly begin to die:
And every tongue, through utter drought,
Was withered at the root;
We could not speak, no more than if
We had been choked with soot.
All animals and plants need water to survive, and the human body is more than three-fourths water. Life-forms use water to carry nutrients around the body and to take away waste. Water also helps break down food and keep organisms cool, among other very important jobs. What happened to the sailors in the Coleridge poem? One survived—thanks to rain—to tell the story:
My lips were wet, my throat was cold,
My garments all were dank;
Sure I had drunken in my dreams,
And still my body drank.
---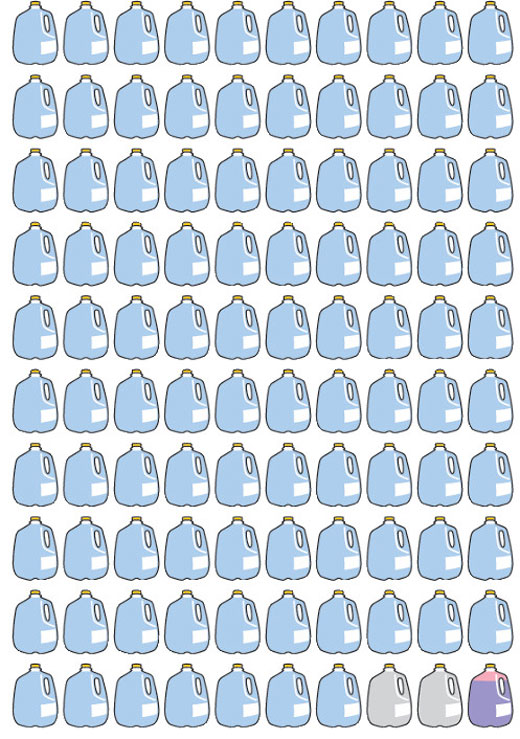 Poseidon was the god of the sea in ancient Greek mythology, and his Roman name is Neptune. In Japan, there are myths of kappas, mischievous water spirits. Kappas have webbed feet and hands, a turtle shell, and scaly skin. They carry water in a hole in the top of their heads! ▶
◀ Imagine that all the water on Earth equals 100 gallons:
97 gallons would be ocean water.
2 gallons would be ice.
0.8 of a gallon would be groundwater.
That leaves only 0.2 of a gallon for all the rivers, lakes, wetlands, and clouds (water vapor) on Earth! (These numbers are approximate.)
---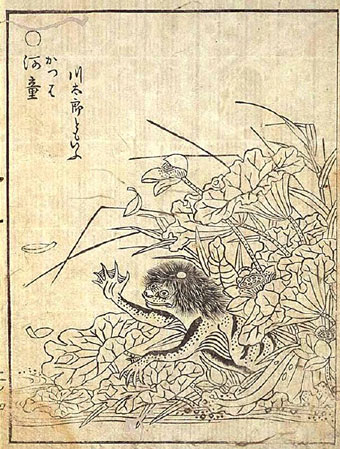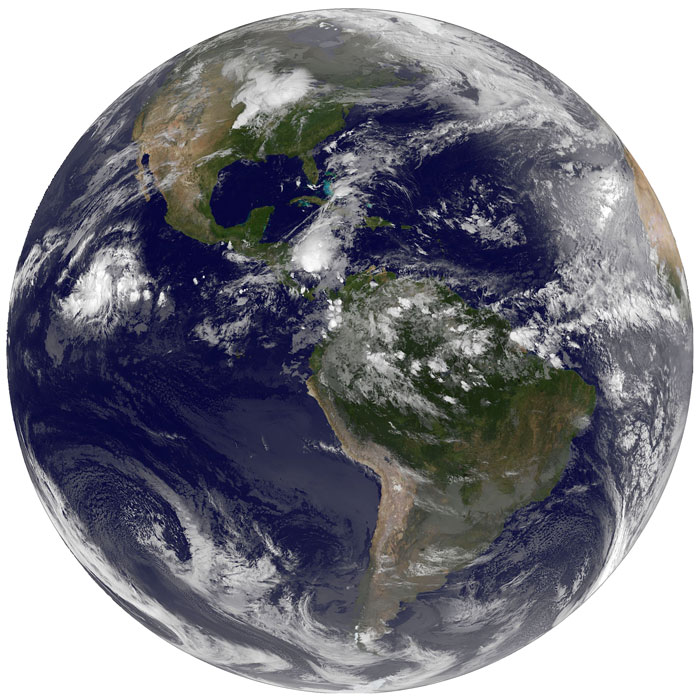 Check It Out!
Water has three states, or phases: solid, liquid, and gas. Which phases can you spot in this photo of Earth?
Solid water is ice, including the frozen, white caps at the top and bottom of the world. Blue oceans, lakes, and seas contain liquid water. White swirling clouds are made of tiny drops of water, which has evaporated from Earth's surface. Water that has evaporated is called water vapor, a gas.
Even microscopic life needs water to survive. Many one-celled organisms thrive in wet areas, such as ponds. They are basically floating bags of water, some with tiny hairs or tails for swimming. Their cell walls hold in their innards. The innards are light-sensitive and contain digested bits of food and genetic material. ▶
Biggest Ocean!
The biggest ocean isn't the Pacific. It's all of Earth's oceans combined, including the Pacific, Atlantic, Indian, Arctic, and Antarctic. They flow into each other as they swirl around the continents, forming one huge body of water. About three-fourths of Earth's surface is covered with water or ice.
◀ How do tall trees move nutrient-rich water from their roots to their tops? After all, the trip can involve going up several stories against the force of gravity! Trees have very long, thin phloems, or tubes. Water rises in these tiny tubes through a process called capillary action. How can you see capillary action in action? Set the stem of a carnation flower in colored water overnight. To make colored water, add a few drops of red or blue food coloring to a glass of water.
Next topic in Water
Properties of Water