All life on Earth depends on water. But what if there's not enough water, such as in a desert? Or what if the water is supersalty, superhot, or superoily?
Extreme water conditions call for extreme ways of survival. Some animals can handle a serious lack of water. If a water hole dries up, a lungfish can survive because it has lungs (organs for breathing oxygen in air) along with gills (organs for breathing oxygen in water).
Some of the toughest life-forms on Earth live in water extremes.
---
▲
Superdry and Freezing
One of Earth's driest places is the Dry Valleys, a frozen desert in Antarctica. It gets no rain and almost no snow. Yet many organisms, including brown clumps of bacteria, live in spaces between rocks. That's where a tiny amount of water remains trapped. The water is frozen all winter, along with the bacteria, but they thaw out briefly in the summer heat.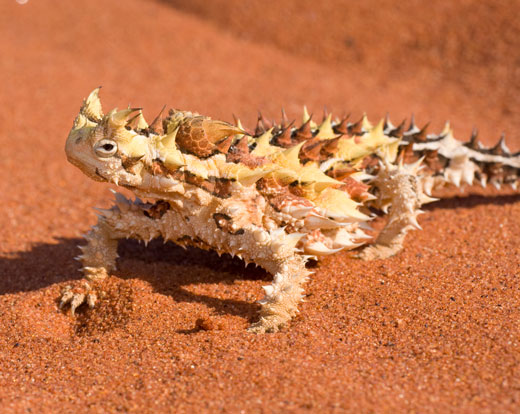 ▲
Superdry and Scorching
The moloch lizard, also called the thorny devil, lives in the Australian desert. The little rain that falls is not enough to keep it alive, so it must get water in other ways. Molochs have spines slanted toward the corners of their mouths. The spines catch morning dew and "feed" it to them. Molochs also eat ants—about a thousand in one sitting!
Check It Out!
Why would an animal live in an extreme water environment? Wouldn't it be better to move someplace where the water's just right?
One reason is that there's no competition from other animals. As long as an animal can survive the tough conditions, it has food, water, and shelter to itself. Another reason is that one animal's hell is another animal's heaven. The scalding temperature and chemical soup at a hot-water vent deep in the ocean kill many life-forms. However, some bacteria eat these chemicals and thrive.
▲
Superhard
Minerals are materials that can be dissolved in water. Hard water is water with lots of minerals in it. Minerals themselves contain elements such as iron, copper, cadmium, arsenic, and nickel. The hardness of the materials does not determine the hardness of the water. The amount of dissolved materials in the water affect the hardness. (Oxygen and hydrogen are not hard in liquid form.) Hard water can be a problem. It may clog water pipes. You also need more soap to get yourself or your clothes clean in hard water. Some of the dissolved minerals may coat your skin and make you itchy. Iron and other minerals are dissolved in the Rio Tinto, a river in Spain. Oxygen from bacteria in the water causes the iron to rust, tinting the water red (above).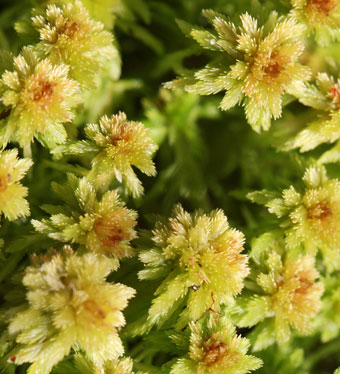 ▲
Superacidic
Peat bogs are wetlands that are almost as acidic (sour) as vinegar. A moss called sphagnum causes this acidity. The spongy, mossy plant absorbs water and minerals and releases hydrogen gas. The hydrogen makes the water acidic. Few animals can survive in it. Sundew plants have evolved a special way of getting nutrients in a nutrient-poor bog. Their sticky surfaces trap and digest passing flies.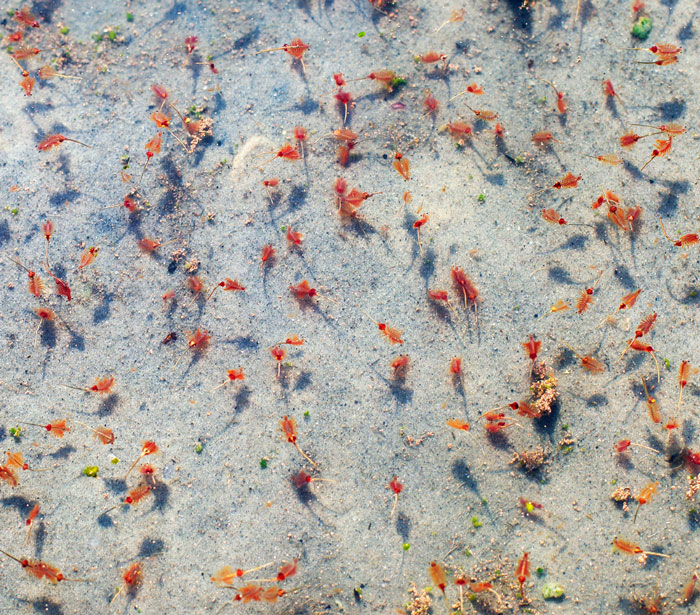 ▲
Supersalty
The shallow Great Salt Lake in Utah is almost eight times saltier than the oceans. Salt pulls away the less-salty liquid inside organisms. That causes the organisms to dehydrate, or dry out. Not many animals can stand briny (salty) waters. But brine shrimp (above) can handle them. To avoid drying out, they keep their insides as salty as the water. That creates a stable balance.
Life in Boiling Water!
Deep-sea water is normally around the freezing point. But a crack in the ocean floor can create "smokers," or hot-water vents. Superhot, mineral-rich fluid from below the Earth's crust flows up through the crack. An organism called Pyrolubus fumarii thrives in vents just above the boiling point. It stops growing when the temperature is too "cold"—about 194°F!
Next topic in Water
Why Water Is Important