It wasn't any one quality that propelled Curtis Mayfield to the top of the crowd.
It was his creativity. His lyrics. The unique style and rhythm of the songs he wrote. His humanity. And so much more. All these characteristics led to his being described as soul's "Gentle Genius."
---
◀ Over his career, Mayfield wrote more than 1,900 songs. That's the equivalent of writing a new song nearly every day for five years! Where did the lyrics for all those songs come from? According to Mayfield, many came from ordinary conversation. The words for Mayfield's hit song "It's All Right" is an example. The song came out of a conversation between Mayfield and Sam Gooden and Fred Cash, the other singers in the group. Things were going well for the Impressions. The team was talking excitedly about all the possibilities of the future. "That's alright," Fred Cash would remark happily. That was all Mayfield needed to hear. He had his hook, or idea, for the song. By the very next day, he had written the whole song. "It's All Right" went on to become one of the Impressions' best-selling singles ever.
▲ With Mayfield as lead singer and guitarist, the Impressions recorded some of the greatest soul vocal group music of the 1960s. They had 14 top 40 hits in the 1960s. That included 5 that made it into the top 20 in a single year – 1964. The lyrics of Mayfield's songs were filled with love and optimism and faith. The pioneering melodies combined gospel and pop. The combination created a new style of music that came to be known as Chicago soul.
MUSIC SIDENOTE
Chicago soul, or "soft soul," had its roots in gospel, or church, music. But its melodies were more relaxed. And its rhythms had Latin influences. Orchestral instruments like horns and violins helped carry the sound. The lyrics told the story of political and cultural change. "Gypsy Woman" is an example of the Impressions' version of Chicago soul.
◀ Mayfield left the Impressions in 1970 to become a solo artist. Why, you might ask. The Impressions were hugely popular. Why make a change? Part of the answer had to do with the times. During the 1960s, African Americans and others were fighting for civil rights. There were demonstrations. There were sit-in protests. There were riots. There were groups in favor of nonviolence and groups backing the use of violence to achieve their goals. Laws were being passed in Congress. These included the Civil Rights Act, the Voting Rights Act, and the Fair Housing Act. Mayfield wanted his music to speak to these events. He also wanted to maintain his own creative sound, so he went out on his own. Indeed, his first solo album has some of his most outspoken songs. That includes "Move on Up," "The Other Side of Town," and "We the People Who Are Darker Than Blue." The 1960s and 1970s were also when Mayfield pioneered a new music style – funk.
MUSIC SIDENOTE
Funk music has its roots in rhythm and blues. It combines soul and jazz with R&B. It emphasizes the beat played out through low-pitched instruments. Funk often has a syncopated beat. (Syncopation is an interruption of the regular rhythm of a piece of music.) Funk music often includes trumpet and saxophone. The sound makes you want to get up and dance. "Move on Up" is an example of funk music.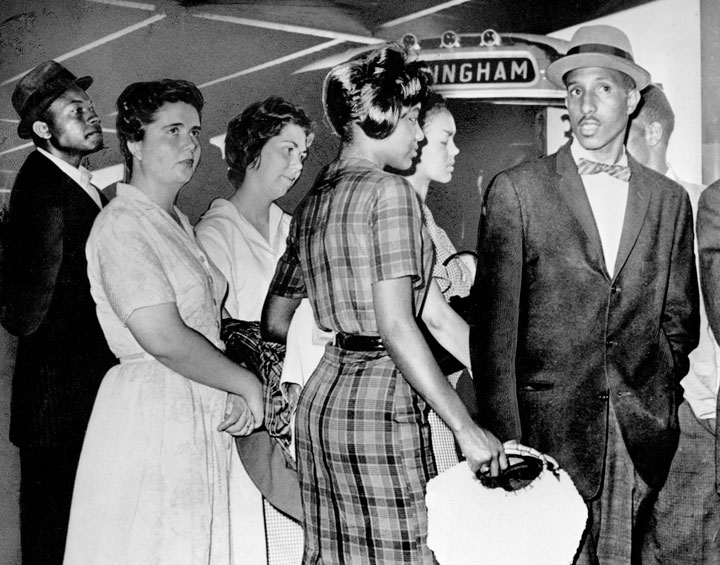 ▲ Several of Curtis Mayfield's songs became closely connected to the Freedom Rides and other civil rights events. (Freedom Rides were a kind of protest by civil rights activists. Riders rode buses throughout the South to find out if bus stations were segregated or integrated.) By this time in his career, Mayfield was less concerned about the commercial value of his work than he was about how it connected to what was going on in the country. Some of these songs, like "People Get Ready," had a spiritual, gospel feel. Others, such as "We're A Winner," spoke to Black pride. "Keep On Pushing" was the number one sing-along song on the Freedom Rides. Irish singer Sinead O'Connor described Mayfield's work as using "love and encouragement, not anger, to say important things." After studying Mayfield's work, rapper and songwriter Aloe Blacc made the following remarks.
The beauty of the vocal style is that the voice is tender and approachable, not aggressive or threatening, but at the same time the lyrics are powerful and politically charged . . . It's a very effective way to juxtapose content and texture. You've got a hooky, catchy pop sound, but by the time you absorb the lyrics and get to the chorus, you realize you have been baited and switched.
WE'RE A WINNER
We're a winner and never let anybody say
Boy, you can't make it 'cause a feeble mind is in your way
No more tears do we cry
And we have finally dried our eyes
And we're movin' on up
(Movin' on up)
Lord have mercy, we're movin' on up
(Movin' on up)
We're living proof and always alert
That we're two from the good black earth
And we're a winner
And everybody knows it too
We'll just keep on pushin'
Like your leaders tell you to
At last that blessed day has come
And I don't care where you come from
REFLECTION
"We're A Winner" and other songs were banned by several white-owned radio stations across the country. Banning a song is a kind of censorship. Reflect on why "We're A Winner" might have been censored. Do you think it would be censored today? Should it have been banned when it first came out?
◀ In 1968, Curtis Mayfield founded Curtom Records with his longtime manager, Eddie Thomas. For African Americans to have their own record company was almost unheard of at the time. Mayfield wanted to be in control of his art and his recordings. That's why he started the company. (Curtom is now part of Warner Music Group.) Mayfield's son Todd Mayfield recalled his father saying, "Own yourself. Own yourself. Own yourself." The younger Mayfield wrote a biography of his father, Traveling Soul: The Life of Curtis Mayfield. In it he said the following.
Curtom made him a titan [giant]. He'd done what a Black man in America wasn't supposed to do – snatched control from a system designed to subjugate [defeat] him.
It was August 13, 1990, on a hot, windy day in Brooklyn, New York. A summer storm was forecast. But bad weather didn't keep 10,000 Mayfield fans from gathering at Wingate Field. They were there to see him in concert. Mayfield and the band started performing early to try and beat the storm. But as Mayfield stepped onto the stage, a huge gust of wind came up. With that, a lighting scaffold collapsed. And a stage light struck Mayfield on the back of the neck. The light crushed several bones in his spine. The "Gentle Genius" lay on the stage, stone-still. Mayfield was 48 years old. The accident paralyzed him from the neck down. He would never walk again. He would never play the guitar again. It would take some time, but Mayfield's creative energy would eventually find an outlet. "He broke his spine," Mayfield's wife, Altheida Mayfield, observed. "But not his spirit." ▶
Next topic in Curtis Mayfield
One and Only