Ray Charles's whole life was about music. During his lifetime, he gave more than 10,000 concerts. He recorded more than 60 albums.
His contribution to the American music scene was unrivaled. But that was just the beginning. Charles used his position and fame to support causes that were important to him. He also appeared in films like Blues Brothers. Plus, he sang in advertisements for a soft drink company. And his work did not go unnoticed. Presidents, kings, and queens gave Charles official recognition, while contemporary artists have sampled his music and others have awarded him repeatedly.
---
◀ You may not have grown up with Ray Charles's music. But if you have heard songs by Chaka Khan, Ludacris, Michael Bolton, Throttle, or Kid Rock, you may be more familiar with his music than you think. These and other modern artists have sampled many of Ray Charles's songs. Sampling is when one artist uses small bits of another artist's music in a new work of his or her own. Charles's version of "Georgia On My Mind" is one of his many songs that artists have sampled.
In 1986, Charles founded the Ray Robinson Foundation for Hearing Disorders. (Later, it was renamed the Ray Charles Foundation.) Its mission is to provide financial support in areas concerned with hearing disorders. For example, it has funded implants for people unable to hear. It is also involved with empowering students with academic services in the arts and science. The foundation's aim is to help young people believe in themselves. Charles was also involved in the fight against sickle cell anemia. This is a blood disorder that affects Blacks more than other groups of people. He even met with President Richard Nixon at the White House to talk about the need for more research into the disease. ▶
▲ Ray Charles has been honored so many times and in so many ways. It's hard to know which are the most important or the most prestigious.
• Received 17 Grammys, awards for achievement in music, including the Grammy President's Merit Award
• Had his version of "Georgia On My Mind" selected as the state of Georgia's official song (1979)
• Given a star on the Hollywood Walk of Fame (1981)
• Performed at the Republican National Convention (1984) and at the inauguration of President Ronald Reagan (1985)
• Inducted (officially accepted) into the Rock & Roll Hall of Fame (1986)
• Awarded the Kennedy Center Honors (1986)
• Received the National Medal of the Arts from President Bill Clinton (1993)
• Received the Royal Swedish Academy of Music's Polar Music Award from the king and queen of Sweden (1998)
• Performed at the Super Bowl and the World Series (2001)
• Honored with his image on a U.S. postage stamp (2013)
◀ Ray Charles's personal motto was, "There is no challenge too great one cannot overcome." That included learning how to play chess, which he did. Charles played chess with his band members and other performers. He became good enough to play against Grandmaster Larry Evans. The chess board he used was different from the ordinary. For example, the dark squares were lowered, while the light squares were raised. Also, each square had a hole drilled into it. A peg on the bottom of each playing piece fit into the hole. The pieces were also different. The dark pieces had sharp tops. The light pieces had flat tops. When Charles played, he and his opponent would call out their moves.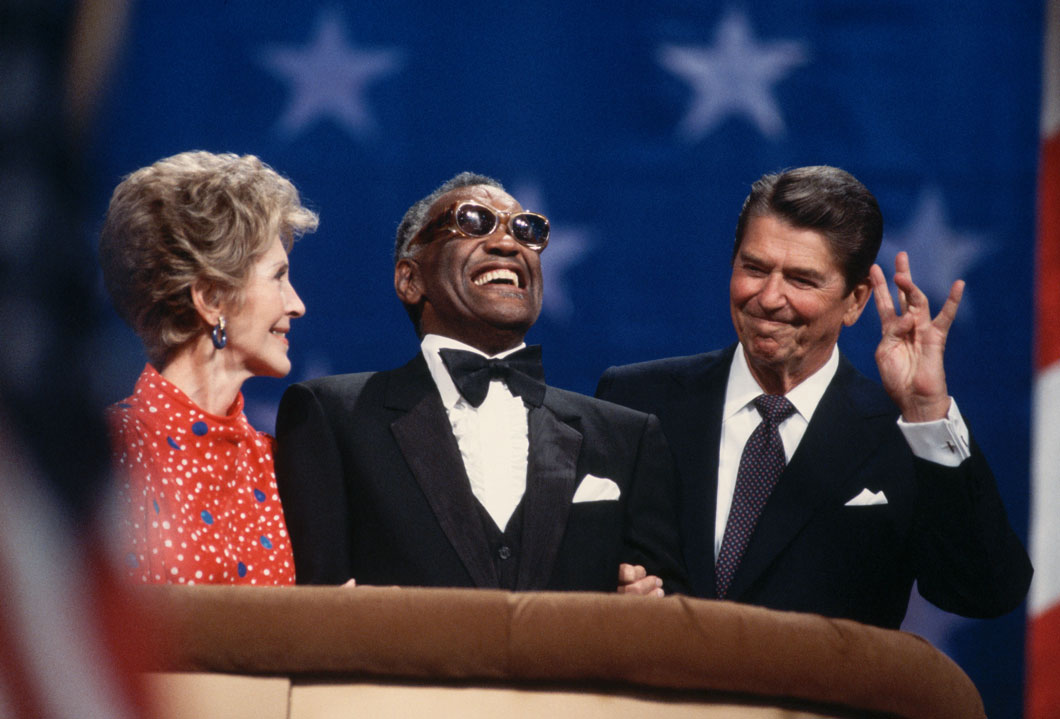 Ray Charles with President Ronald Reagan and First Lady Nancy Reagan at the 1984 Republican National Convention
▲ Ray Charles was asked to sing "America the Beautiful" at many events. Each time, he did it his way. Specifically, he started with the third verse, not the first verse. To Charles, the third verse describes the nation in a way that felt right. It's about the people who stood up for this great land.
Oh, beautiful for heroes proved
In liberating strife,
Who more than self their country loved,
And mercy more than life!
America! America!
May God thy gold refine,
Till all success be nobleness,
And every gain divine!
\
Next topic in Ray Charles
The "Genius"